As you may know, Gremlins are prone to multiplying.  This gives you a chance to win your own Greeley the Gremlin at the Greeley Unexpected kick-off concert, this Friday.
June 1
6 to 10 p.m.
9th Street Plaza, Downtown Greeley
Stop by the Greeley Unexpected booth and enter the drawing to win your own Greeley Gremlin doll/puppet.
The kick-off event is part of Friday Fest on Greeley's downtown 9th Street Plaza starting at 6 p.m. with the free concert beginning at 6:30 p.m. The entertainment includes music, fire spinners, face painters, balloon artists, and more. The band is Pink Hawks, an Afrobeat / Chicano Hip-hop orchestra from Denver that will exceed your expectation for live, high-energy, and entertaining dance music.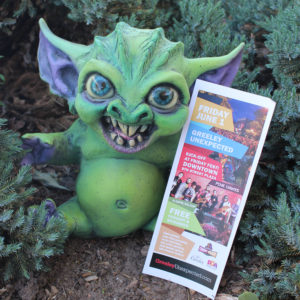 This is the first Friday Fest of the summer and is a Go-Cup event. Adults are allowed to purchase and enjoy an alcoholic beverage at any of the establishments in the Go-Cup district and take that beverage on the plaza for concerts and other activities.
Get more information about the event and the campaign at GreeleyUnexpected.com.
Don't forget that Monster Day Greeley will be in the same location on August 18!  Like Monster Day Greeley on Facebook and RSVP on the Facebook event to get updates.  Also, follow Greeley the Gremlin on Instagram for more fun.