Monster Day returns to downtown Greeley on Saturday, August 17, 2019! This family-friendly celebration of all things "monster," features dozens of creatures from our own famous monster-makers, Distortions Unlimited, including the Greeley the Gremlin and his pal Chewbie. Plus music, entertainment, face painting, a costume contest, Ed Edmunds speed painting masks, a sculpt-off duel, demonstrations, a monster puppet show, dance performances, a chance to wander through Monster World (additional charge), fire spinners, kids activities and more!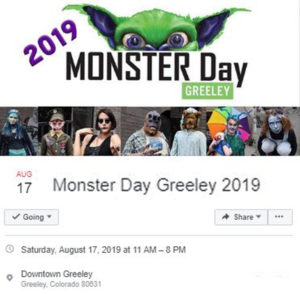 Don't forget your camera, because the photo ops at Monster Day are out of this world. On top of the Distortions creatures all over the downtown plazas, there will be dozens of live monsters roaming about! (Don't forget to share your photos with the #monsterdaygreeley hashtag)
And new this year, you can start the Monster Day festivities a little early because we'll have some Monster Day shenanigans at Friday Fest on August 16. Enjoy a special performance by Peter, Paul, and (Scary) Gary on the 9th Street Plaza, enjoy Greeley's famous Go-Cup, and fun for the whole family.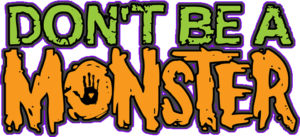 Why do we put on Monster Day? The original idea was a collaboration between multiple organizations as a way to help support Don't Be A Monster, an anti-bullying non-profit that raises awareness and gives free school presentations that empower students to stand up for their themselves, their friends, and their peers. Watch some of their videos and see the anti-bullying messages they are spreading.
And a huuuuuuge thanks to all of this year's sponsors. We could not make Monster Day Greeley happen without their time, effort, financial contributions, and support.
What exactly can you expect at Monster Day? Well the full schedule of events is still in the works, but here is some of the monstrous fun we have in store:
Photo ops with Distortions Creatures
Live Monsters Roaming the event
Speed painting masks with Ed Edmunds
A sculpting duel
Costume contest
Performances from George Gray as Alien Elvis
Music on BOTH plazas
Distortions' Monster World (extra charge on the southeast corner of Lincoln Park)
Monster Fishing from Distortions
Tricked-out hearses on display
Fire spinners
Face painting
Food & beverage
Vendors and booths
A monster puppet show
Monster Story Time
Kid's activities
And MORE!
Mark your calendars and we'll see you on August 17, 2019 for a monster of a good time!
Want to be a part of Monster Day? Find vendor info HERE, or sign up to be a Monster Day Greeley volunteer HERE.
Enjoy some of the fun from last year's event!
<iframe src="https://www.facebook.com/plugins/video.php?href=https%3A%2F%2Fwww.facebook.com%2FDistortionsbiz%2Fvideos%2F451382345269904%2F&show_text=0&width=560" width="560" height="315" style="border:none;overflow:hidden" scrolling="no" frameborder="0" allowTransparency="true" allowFullScreen="true"></iframe>