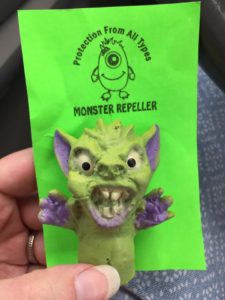 If you're debating about a trip to Downtown Greeley to enjoy Monster Day on August 26, but you're worried that it might be too scary for your kids, I have good news for you; most of the monsters and activities are family friendly (especially those activities before 6pm). After all, this is a celebration of monsters of all kinds, not a scare-fest.
However, if there happens to be a monster that your little one doesn't like, they can use one of these free Greeley Gremlin finger puppets as monster repellant. Any of our monsters that are out-and-about should back away and cower from any child holding their monster repellant. Even if your child doesn't have a puppet, our monsters are not out to terrorize anyone, but these can empower the younger ones so they can enjoy the day too.
These are just a way for you and your family to feel safe amongst the monsters while enjoying Monster Day Greeley.
These puppets were crafted by Distortions Unlimited for Monster Day and will be handed out to the little ones while supplies last.
See you at Monster Day. (And don't forget your camera!