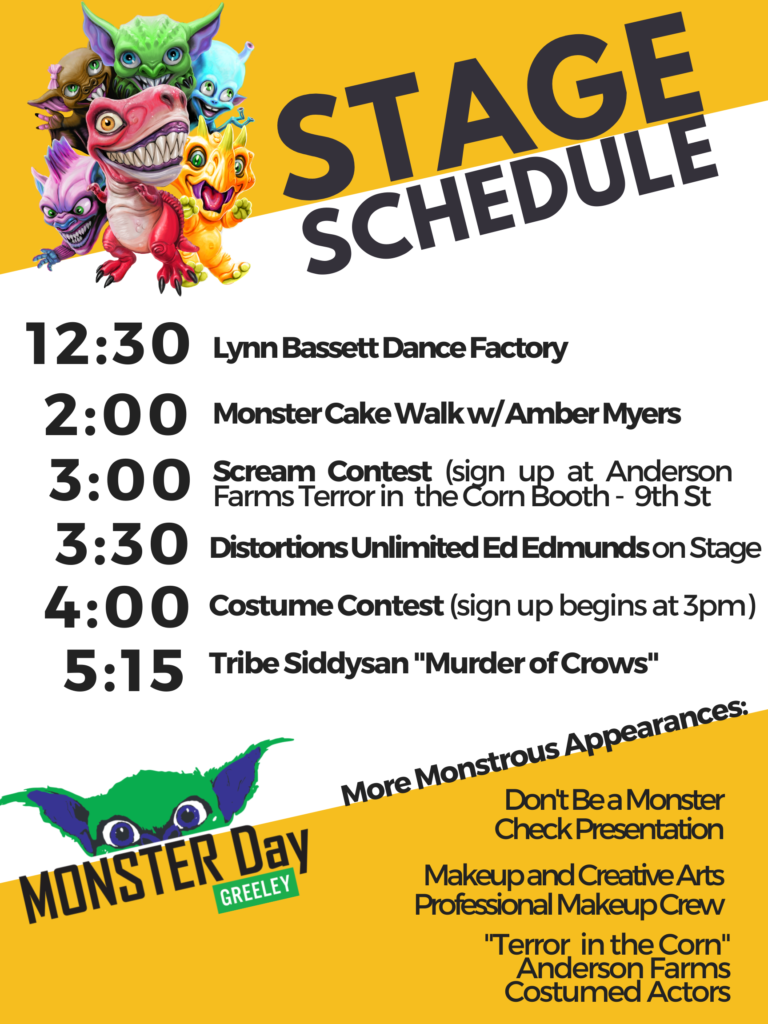 Monster Day Greeley, scheduled for August 20, 2022. The family-friendly celebration of all things monster, featuring Greeley the Gremlin and friends, is put together by the event team of Distortions Unlimited, Visit Greeley, the Greeley Downtown Development Authority, and Merry Makers.  Of course, you will be able to expect to see lots of professional makeup demonstrations, vendor booths, face painting by our friends at Merry Makers, food and refreshments, kid's activities, games, and more. Distortions will once again place dozens of their creations around for photo-ops including "The Mutant", the "Monster Lamborghini", a a brand new piece called "Ask the Brain". The crowd-favorite, Elvis-hosted costume contest will be back as well. We are also still committed to providing support to "Don't be a Monster" – A Denver area non-profit that does anti-bullying assemblies at schools.
2022 Monster Day Greeley Stage Schedule
*subject to change….monsters can sometimes be tough to wrangle up*
12:30pm – Lynn Bassett Dance Factory
2:00pm – Monster Cake Walk w/amber Myers
3:00pm – Scream Contest (sign up at Anderson Farms Terror in the Corn Booth on 9th St)
3:30pm – Distortions Unlimited/Ed Edmunds on Stage
4:00pm – Costume Contest (sign up begins at 3pm)
5:15pm – Tribe Siddysan "Murder of Crows"
More monstrous appearances:
Don't Be A Monster Check Presentation
Makeup and Creative Arts Professional Makeup Crew
'Terror in the Corn' Anderson Farms costumes actors
Other businesses in the downtown area are also hosting Monster Day related specials and activities like Aunt Helen's Monster Shakes, and WeldWerks Brewing Company's release of 'Rex's Revenge'.